With more than 30 years of lending experience, I am well versed in all types of mortgages from Conventional, FHA, VA, USDA and Renovation Loans to Non-Agency programs. In recent years, I have seen many changes in the industry. What hasn't changed is my dedication to my clients and business partners. My goal is always the same – BE AVAILABLE; provide useful, reliable information; simplify the mortgage process and ensure a timely and successful closing for all parties.
DeANNA & COMPANY is your trusted resource for home loans in the state of Florida. DeAnna has the team, knowledge, relationships, and experience to make your loan process as smooth as possible.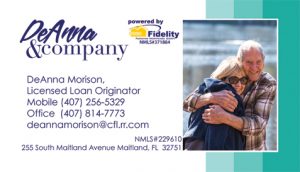 Fidelity Funding is licensed with the state of Florida & operates separately from Real-Team Realty.